Marketing Services : Livonia
Marketing Services
Marketing Services in Livonia, Michigan
28747 Church St., Flat Rock, MI 48134,
Flat Rock,
MI,
48134
Bios
Mike Carroll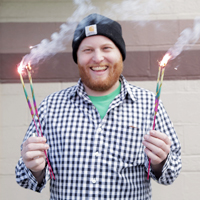 Mike Carroll
Mike Carroll

Michael Carroll is the President of Kaleidico Digital Marketing. A former political operative, journalist and perhaps, most impressively, an ice maker, his diverse experience makes for an unusual President – but we're pretty sure that's the point. A writer, visual storyteller and strategic thinker, Michael's favorite part about leading the Kaleidico team is the challenge created by our diverse portfolio of clients. He is a rabid consumer of bad movies and good books, is partial to facial hair and bears a striking resemblance to a koala.

Things you might learn over beers: That Michael knows more about Jim Morrison than anyone you know… or could know, enjoys traveling above all things and has no compunction sharing a political opinion. You asked.

David Quilty
David Quilty

David Quilty is the Director of Content Strategy and Digital Influence here at Kaleidico. His varied past of creating automotive television programs, being a Hollywood studio lackey, an online media sales director, and the publisher of a widely-read environmental news website gives him a keen understanding of what kinds of content and messaging will be successful for clients.

He thrives on crunching the data, juggling 100 things in his head at once, and making sure everyone is organized and on the same page and is known around town for his beard, which garners comments from strangers on a daily basis.

Things you might learn over beers: David has lived in 7 states and is aiming to try all of them at least once. He also enjoys building stuff out of wood pallets, usually found behind the bars where you would be drinking beer with him, and riding his motorcycle.

Jaclyn Agui
Jaclyn is a Business Analyst/Account Strategist for Kaleidico and has a background in Marketing and Digital Strategy. She has an MBA from the Weatherhead School of Management and has broad marketing experiences in a variety of different industries including nonprofit, lifestyle, and energy brands. She excels at time and project management and enjoys cross-collaborations.

In her free time Jaclyn loves cooking, dancing, and watching all sorts of television shows (including infomercials!). She knows how to speak fluent Spanish and Japanese, and wants to continue learning new languages and cultures.

Angelo Marasa
Angelo Marasa is a web developer and project manager at Kaleidico Digital Marketing. With a background in construction for short stint during college, Angelo prides himself on being a hard worker, having built a strong work ethic and one to not shy away from a challenge. It's his passion for creating digital things that brought him to where he is today.

Things you might learn over beers: Angelo is an avid fan of local Detroit sports, Italian Soccer and fishing (though, not very good at it).

Robert Allen Baker
Robert is a Front End Web Developer for Kaleidico. He specializes in WordPress Template Creation, HTML, CSS, JQuery and PHP. In his spare time, he is a musician, songwriter, producer and audio engineer.


Get digital marketing that generates sales leads!