Kitchen Tune-Up
Kitchen Tune-Up
---
Business details
Kitchen Tune-Up
10900 Plantside Dr
Ste C
Louisville
KY
40299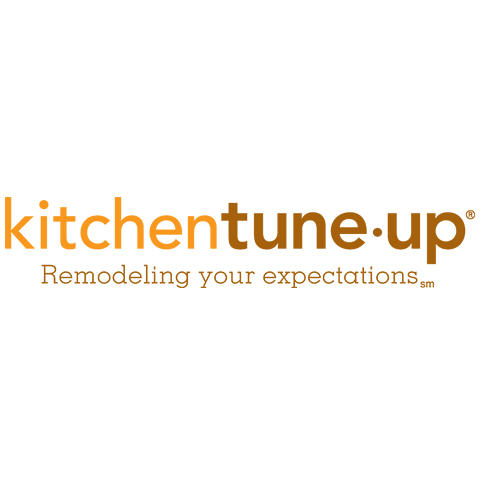 The kitchen of your dreams is within reach!
About Kitchen Tune-Up
Looking for a fast and affordable option to give your kitchen a fresh new look? With our four service options at different price points, you can get that new look you've always wanted (without being displaced from your home for weeks). Has everyday wear and tear caught up with your kitchen cabinets? We offer four options including our exclusive 1 Day Wood Restoration Tune-Up, Cabinet Redooring, Cabinet Refacing, and New Cabinets. We are the kitchen remodeling company that will breathe new life into space, offering personalized service and incredible results. Many projects are complete in only 1-5 days. Click or call today to learn more about our services and to request a free no-obligation estimate.
Categories: kitchen design & remodeling, cabinet resurfacing & refinishing, home renovation & improvement, countertops, bathroom remodeling Keywords: kitchen remodeling, cabinet refacing, cabinets, cabinet doors, cabinet redooring, remodelers, kitchen remodelers, bathroom remodeling, countertops, kitchen countertops, kitchen refacing
Featured Services
Services
Cabinet Refacing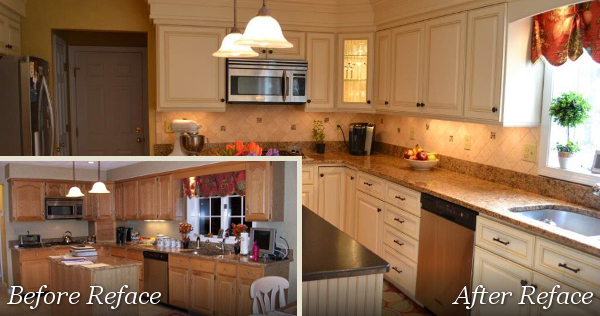 If you're creating a new look for your kitchen or are simply looking to refresh your cabinets, cabinet refacing may be for you. In two to four days you can get a completely new look! Subtle or dramatic? Rustic or modern? Ornate or streamlined? It's up to you.

Cabinet refacing enables you to revitalize your kitchen with new doors, drawer fronts and matching veneer, while keeping your existing cabinet boxes. Without changing the familiar layout of your kitchen, you can improve both the appearance and durability. You can create a "new kitchen" look without the "new kitchen" price tag.


The Original Tune-Up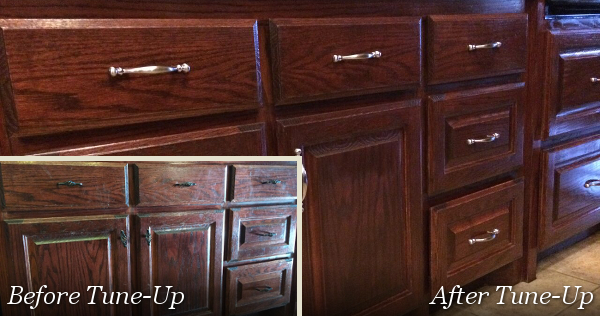 Has normal wear and tear caught up with your cabinets? Are your cabinet drawers worn? Does the wood seem greasy or grimy? Our unique, comprehensive wood reconditioning process makes woodwork look like new. It works in the kitchen and throughout your home or business.

A Tune-Up is our proprietary wood reconditioning process. We start by separating, then removing, the build-up (dirt, grease, wax, smoke and dust) from the wood's original finish. Then we touch up and blend the areas where color may have faded and apply a special colorant. Finally, we can treat your cabinets with a special penetrating oil that restores dried-out wood fibers and/or apply an entirely fresh coat of finish. We'll have your wood looking like new in no time!


Cabinet Redooring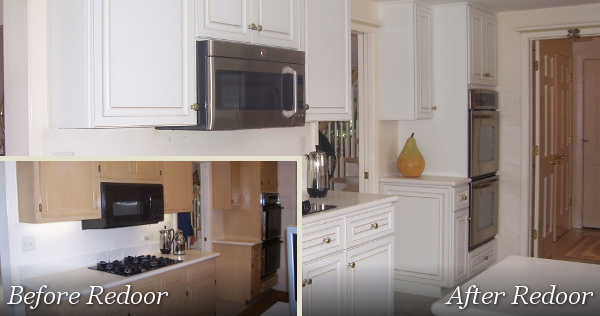 If you want to update the style of your kitchen without a dramatic change or are simply looking to refresh your cabinets, cabinet redooring may work for you. In one to two days you can get an updated look without the hassle or cost of installing new cabinets.

Cabinet redooring simply means we replace your doors and drawer fronts with new ones in your choice of style that are color-matched to blend with your existing cabinet boxes. We replace your hinges and offer a wide variety of new pulls and knobs to complete the new look. It's a quick and easy way to update your kitchen.


Custom Cabinets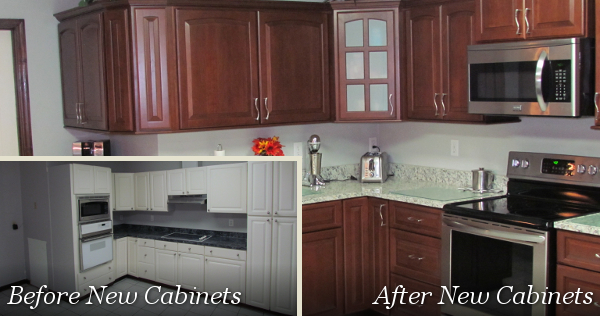 If you'd like to change the layout of your kitchen, need special cabinetry or simply want a new and fresh look, we can help. With countless styles to choose from, we make it easy to create the kitchen of your dreams.

First, we'll visit your home for an initial consultation. If you know what you want, we'll help you achieve it. If you need creative ideas, we'll show you plenty. We are there to listen to your wants and needs. Don't be afraid to bring your own photos or drawings to the table; we want to make the kitchen you want. On our second visit, we'll bring beautiful, full-color designs for your review. This will allow you to really visualize your new space and make any changes you need. Finally, we'll order and install your new custom cabinetry.


Organize Your Home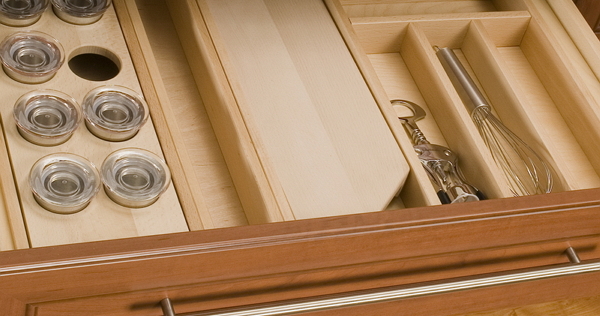 The kitchen is likely the busiest room in your home and it can easily fall into organizational disarray. Cabinets start to overflow, drawers are filled with a mishmash of utensils, and shelves become cluttered. Whether you Tune-Up, redoor, reface, or get new cabinets, we have organizers and storage solutions to improve your space.

Some popular organizers & accessories include roll-out trays, roll-out waste & recycling containers, drawer organizers, spice racks, & Lazy Susans.


Bathroom Remodeling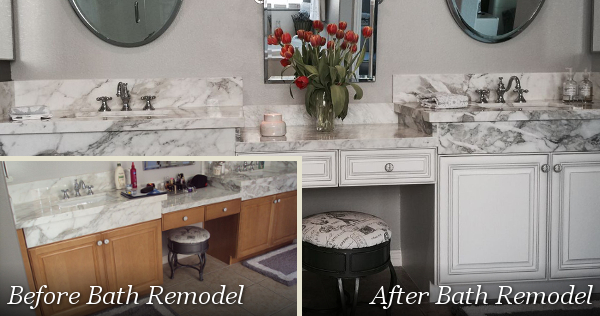 Kitchen Tune-Up is more than just kitchens. Let our experts help bring out the best in your bathroom. With our wood and bathroom-specific remodeling options, not only will we make your bathroom look beautiful, we'll make it practical and convenient for everyday use.

We can recondition, reface or replace any woodwork in your bathroom. A few simple changes can make your bathroom look like new! We also offer a range of products to make your bathroom more stylish and functional.


Countertops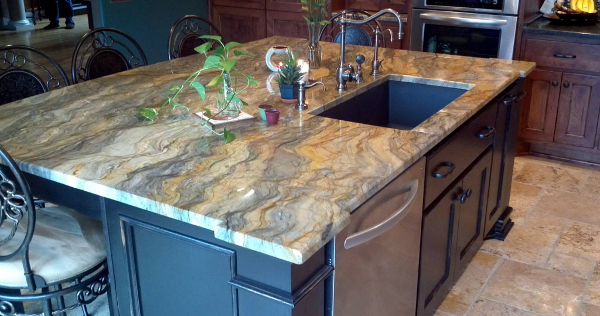 Choosing a countertop for your new kitchen or refacing project can be as daunting as choosing your door style and color. Here at Kitchen Tune-Up, we want you to be an informed consumer. Kitchen Tune-Up does not actually sell or manufacture countertops, but every single one of our franchises have many options of different countertops ranging from local fabricators to national vendors.


Closets & Garages

Kitchen is our first name, but our franchise locations offer solutions to update and organize all areas of your home or business. Kitchen Tune-Up can help you add functional storage to master closets, kids closets, coat closets, laundry rooms, pantries, home offices, garages, and more. Our custom closets line is available in three finishes - white, espresso, and salt oak. For durable garage storage choose from matte silver, starfire pearl, or graphite grey.


Granite Tune-Up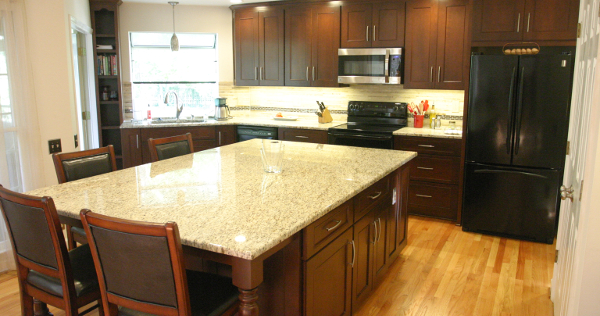 Protect your investment! Granite countertops are an investment that require care. Leaving a porous stone untreated can lead to a dull finish and unsightly stains. Experts recommend sealing natural stone countertops each year. More often may be required based on the usage of your kitchen.



Facebook
Opening Hours
Monday: 08:00 to 17:00
Tuesday: 08:00 to 17:00
Wednesday: 08:00 to 17:00
Thursday: 08:00 to 17:00
Friday: 08:00 to 17:00
Saturday: Closed
Sunday: Closed
Showroom Available By Appointment Only
Images from Kitchen Tune-Up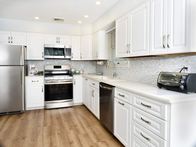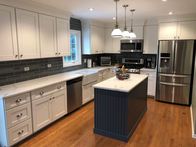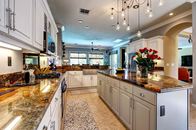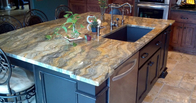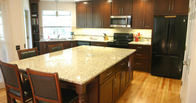 More information
Kitchen Tune-Up was established in 2019
Languages spoken: English
Services include: kitchen remodeling, cabinet refacing, cabinet redooring, cabinet reconditioning, cabinetry, kitchen design

Payment options accepted by Kitchen Tune-Up
American Express
Cash
Check
Discover
MasterCard
Visa
Link to this page
If you would like to make a link to this page from your own website, simply copy and paste the code below into any page of your site.