Fireplaces : Carroll
Fireplaces
Fireplaces in Carroll, Ohio
3739 Old Columbus Rd NW,
Carroll,
OH,
43112
Products & Services
Wood Burning Stoves


Chimney Liners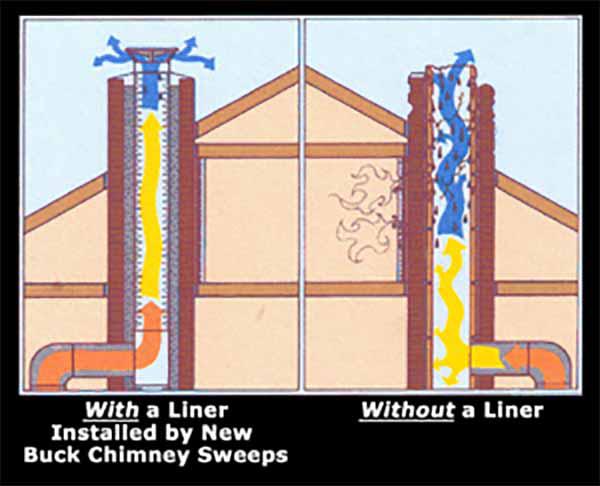 Download Brochure!
Each year, thousands of modern heating applicances are vented into damage or outdated masonry chimneys, resulting in poor draft, disintegration of the chimney and can compromise you and your family's safety.

Liners provide a correctly sized flue for optimum efficiency and safety of heating applicances. The chimney carries toxic gas out of your home. Furnaces, fireplaces & stoves require a correctly sized flue in order to vent these gases properly. Venting modern appliances through an incorrectly sized masonry chimney allows flue gases to expand and cool inside the chimney which can lead to excessive creosote buildup (the cause of most chimney fires) and the production of carbon monoxide (a potentially deadly gas).

Liners protect the masonry from the corrosive byproducts of combustion. Over time, flue gases and water vapor break down mortar joints from inside the chimney where it is sometimes impossible to see without using special equipment. When mortar joints have eroded or are missing, heat can transfer to nearby combustibles and carbon monoxide can leak into living spaces.

New Buck Chimney Sweeps install only the best stainless steel lines on the market today. All of our liners come with a lifetime warranty so you can be rest assured your liner will last as long as you do!


Chimney Sweep Packages
SWEEP PACKAGE A - A Fireplace Sweep Special
Start at the top. Wire brush that dirty cap. Need a cap? No labor charge to install one.
Sweep chimney (up and down 6 times).
Inspect flashing and chimney crown.
Inspect exterior and interior of chimney.
Video inspection with camers available.
Clean masonary cavity, throat and smoke shelf.
Clean fireplace glass enclosures.
Remove all ashes.
Inspect firebox area.


SWEEP PACKAGE B - A Woodstove Special
Scrape cap thoroughly. Need a cap? No labor charge to install one.
Sweep & Inspect Chimney.
Lubricate Motor with Buck High Temperature Oil (if applicable).
Clean Glass Doors (if applicable).
Clean Firebox.
Inspect exterior and interior of chimney.


VISUAL CHIMNEY INSPECTION
Recommended for a chimney with continued service, under normal conditions. Condition of chimney will be documented.


VIDEO CAMERA INSPECTION WITH SWEEP (IF NEEDED)
A detailed look at the interior and exterior of chimney. Please feel free to watch video monitor of the same with us.


DRYER VENT CLEANING


Masonry
Chimney Rebuilds
Regardless of whether your chimney was built incorrectly, has suffered a chimney fire or water damage, or has simply deteriorated over time, a rebuild doesn't have to mean stress and mess. New Buck Chimney Sweeps can give you a beautiful, effective new chimney at a reasonable price and in a reasonable time frame. We've built hundreds upon hundreds of chimneys for our neighbours throughout Central Ohio and stand behind our work.


Crown Repair
If your crown is crumbling, cracked, or doing a poor job of keeping moisture out of your chimney system, we can help. We use CrownTite to provide seamless repairs and results. If your crown is beyond repair, we can still take care of it. Our team will build you an effective new crown that will keep moisture out, year after year.


Tuckpointing & Brick Replacement
As expert masons, we specialize in tuckpointing work and brick replacement and can restore the structural strength and beauty of your masonry chimney. If eroded mortar joints and cracked brick has left your chimney in disrepair, let us help! We also tuck point brick and stone walls! Request Your Free, No Obligation Masonry Estimate Today!



Stop Into Our Showroom Today!