Electric Companies : Oakland
Electric Companies
Electric Companies in Oakland, California
1730 Franklin St Ste 201,
Oakland,
California,
94612

655 3rd St 49,
Oakland,
California,
94607

505 14th St #450,
Oakland,
CA,
94612
Solutions
Property Management
BUDGET GENERATION & VARIANCE REPORTING
Generating an energy budget can be a challenging, time-consuming task. Dynamic factors like weather, rate changes, efficiency projects and occupancy changes can be very difficult to account for when predicting a building's energy use. Trusted by leading portfolios, let MACH's decades of Energy Budgeting experience work for you.

FORECAST ACCRUALS
Get accurate and easy-to-use end-of-month or end-of-billing-cycle accruals right from your Dashboard. This feature utilizes MACH's precision modeling of your building's energy use, NOAA weather forecasts and our up-to-date Tariff Engine to deliver a simple solution that can be easily integrated with your accounting reporting.

TENANT BILLING
Free yourself from burdensome processes and eliminate errors. MACH's comprehensive Tenant Billing solution fits every process and budget. Choose to fully automate your tenant meter readings, or replace your clipboard with real-time error checking and auditable meter photos via MACH's meter reading app. Then, use MACH to send billing results directly to your accounting or work-order management systems and deliver well-designed bills to your tenants.


Engineering
USEFUL INSIGHTS
It's hard to find time to analyze usage profiles to determine if operations are improving or identify new costly behaviors. MACH's actionable analytics automatically reveal how operations are trending over time and identify common problems like early startups, late shutdowns, excessive weekend operations, cycling equipment and more. Use our system to instantly notify your team of abnormal operations to ensure that failures are caught and dealt with promptly.

TEAM-FOCUSED
Built with teams in mind, MACH makes it easier to save money and keep everyone informed. Whether you're drawing on charts and sharing them with your team, explaining operational changes with collaborative notes, or sharing useful Dashboards across your organization, MACH helps your team work together.

YOU'RE ON THE GO, AND MACH IS WITH YOU
You're always on the go, and building systems are always running. With MACH's mobile application, you can quickly check up on recent operations, analyze trends, and share findings with your team. And, if you record tenant meter readings every month, use our app to gather them: you'll get instant error checking, and you can take meter photos to protect against audits and more.


Sustainability
ENGAGING PROPERTY TEAMS
Sustainability programs often have difficulty motivating and engaging teams. MACH has worked with dozens of top portfolio companies to create successful engagement programs. Let us use our experience to help you make your job easier.

QUICK SUSTAINABILITY REPORTING
With MACH deployed across your portfolio, it's easy to get answers to common sustainability reporting questions. Deep dive into asset carbon numbers with common energy-to-greenhouse gas conversions like eGrid CO2, NOX, CH4 and Greenprint.

ENERGY STAR
MACH is grateful to be a longtime award-winning Energy Star Partner. We can help by consolidating your Energy Star reporting and by automating cumbersome energy usage reporting, including management of tricky data center meter entries.

PROJECT ANALYSIS
Estimating and measuring the payback of efficiency projects can be very difficult. With MACH's powerful Measurement and Verification solution, you can easily understand and illustrate the financial impact of your projects, thereby increasing project approval and analysis times.


Asset Management
COST-EFFECTIVE SOLUTION
MACH's Energy Management Software is a cost-effective solution that not only increases your asset values, but also helps reduce risk, increases NOI through lower energy costs and higher occupancy rates, and consolidates your benchmarking needs.

MEANINGFUL REPORTS
With MACH's Enterprise Reporting, you can customize reports to display the asset and organizational metrics that are most meaningful to you. And, convenient push reporting means you'll automatically receive graphical and tabular views in your inbox every month, helping you to quickly identify over- and under-performing assets.

INDEPENDENT PROJECT ANALYSIS
Obtaining accurate independent capital project analysis can be difficult. Our Measurement and Verification solution simplifies project analysis and validation before approval, and can also track implemented projects, aiding in the verification of vendor-predicted savings.


Energy Management Software
Tenant Billing
MODERNIZE YOUR TENANT BILLING PROCESS
For years, we have worked with our customers to identify and resolve issues in their tenant billing processes. The result is a flexible solution that can range from completely automating the process to simply modernizing it to reduce errors and time.


EATURES
Fully-automated meter reading utilizing trusted and reliable hardware.
Highly flexible solution capable of adapting to your unique process requirements.
Enhanced manual meter reading through our mobile app:
Catch errors at the point of entry with automatic validation
Take meter photos for audit support (optional)
Quickly enter readings in the app by scanning meter labels
Automatically transfer data for bill generation
Increase your cash flow and speed up billing by utilizing our tariff engine: know your previous month's billed rates without having to wait for your utility bill.
Answer any tenant billing questions or audits in seconds with full reporting transparency available for your entire billing history.


Budgets & Variance Reporting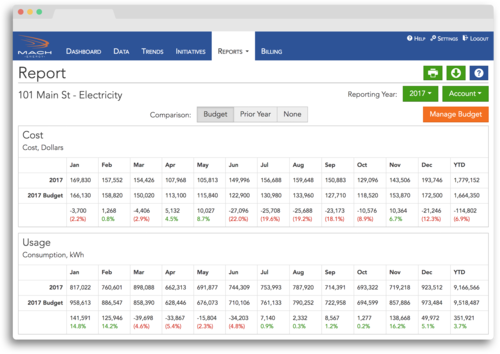 A MORE ACCURATE ENERGY BUDGET IS JUST TWO MINUTES AWAY.
Creating an energy budget is a complex and time-consuming process. Accurate forecasts must account for the impacts of weather, operational changes, and energy prices in the coming year. MACH has simplified this process. In less than two minutes, MACH uses deep machine learning analysis of how your building relates to weather, season, occupancy and changing operations to make detailed energy predictions. We then apply up–to-date energy pricing to provide precise dollar calculations for your budget. Alternatively, if you have your own budget process, you can enter those numbers into our system for ongoing tracking and variance reporting.

Quantifying Variance Impacts

Tenants move out, heatwaves happen, energy prices go up: when analyzing the bottom line, managers need answers related to these issues. MACH's variance reporting not only immediately informs you of budget differences, but also of the known causes for budget variances. We provide quantifiable dollar and energy numbers from these known causes, which show the true energy performance of the asset.


FEATURES
Over a decade of experience with constant refinements to our process to create accurate forecasts for the world's most sophisticated operators.
Variance reporting with detailed dollar impact of known differences such as weather, occupancy and energy price changes.
Budget tracking across accounts, assets and portfolios.
Flexible budget and variance tracking solution that supports a MACH-generated budget or a 3rd party's budget.
Energy Advisor support to help you with all aspects of our budget requirements and ongoing reporting needs.


Customizable Dashboard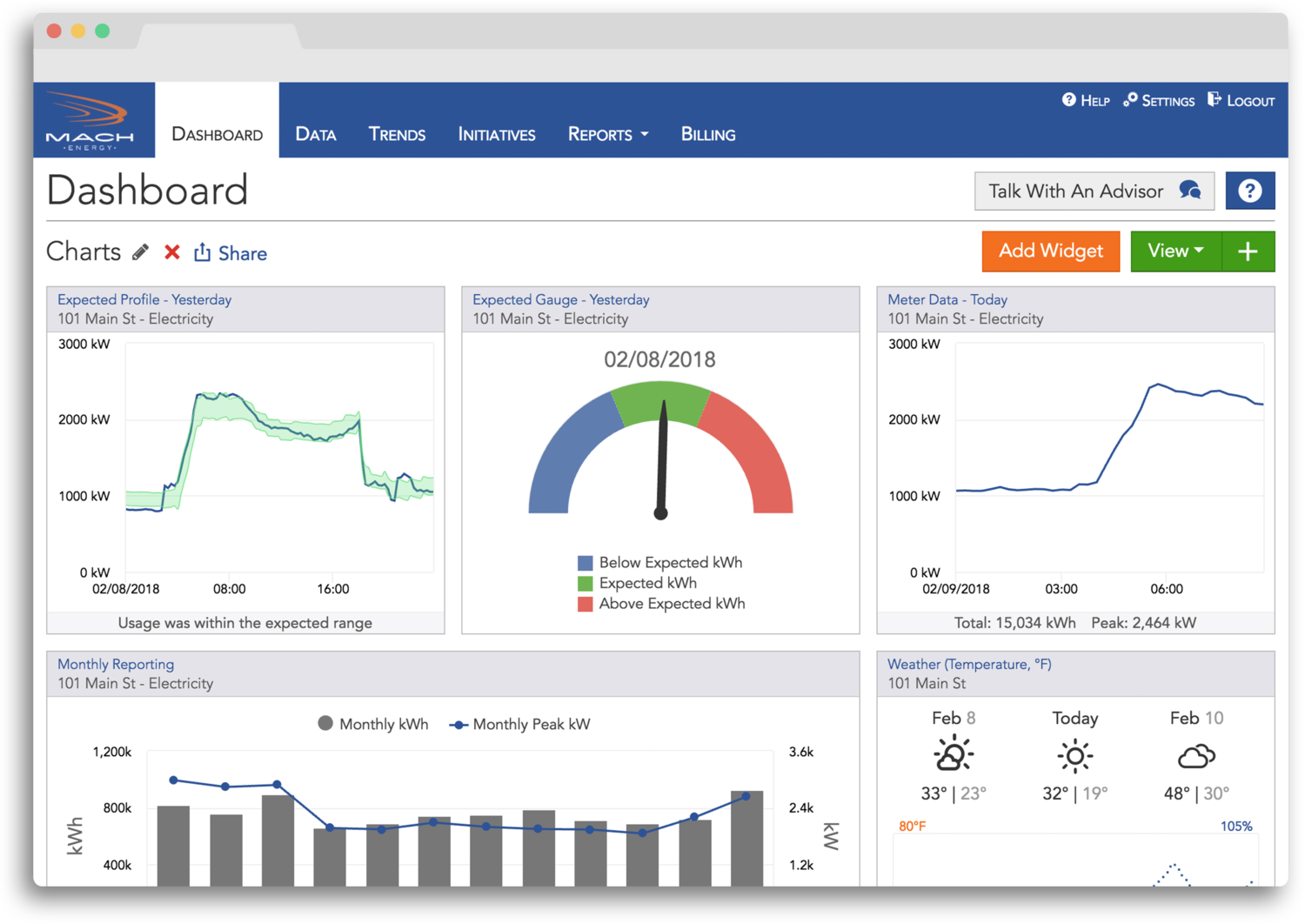 THE INFORMATION YOU NEED IS ON MACH'S DASHBOARD.
MACH's powerful, customizable Dashboard helps answer the questions that are most important to you. Our default role-based displays provide a quick way to get started, but you can tailor them to your specific needs at any time. You can also share your Dashboards with other team members, making it easy to track the same important information across your team.


FEATURES
Optimized for mobile devices to provide fast access to information on the go.
Consolidate your meters, projects and buildings in portfolio-wide views.
Utilize our widget library on any website, such as your company's SharePoint, your lobby kiosk, elevator displays or building management system (BMS).
Get started quickly with our role-based default displays, then tailor the views to your specific needs.
Customize the size and position of your widgets to highlight whatever is most valuable to you.
Create multiple dashboard views to organize your information.


Demand Management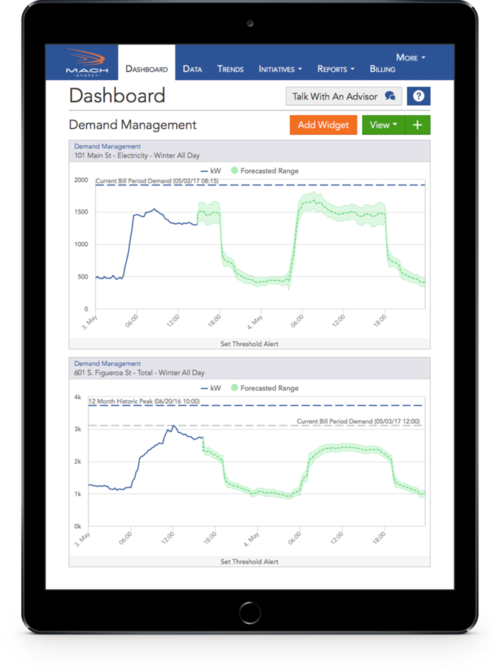 AVOID COSTLY DEMAND CHARGES.
With demand charges potentially accounting for 40 to 60% of monthly billed costs, managing demand presents a significant and ongoing savings opportunity. Several factors determine how to curb demand before new peaks are set; establishing which demand charges incur the highest costs, what levels have been set, and when you are likely to set a new peak can take a lot work with little payoff. MACH provides ongoing operational forecasts and insights into charges that identify the crucial opportunities to effectively limit demand.


FEATURES
Avoid new demand peaks with operational forecasts.
Respond to new peaks before they occur with email and text alerts.
Understand the impact of your demand by visualizing cross referencing time-of-use, capacity levels, historical data, and other complex demand rules.
Achieve maximum return by identifying the percentage of your demand costs through time-of-use feature.


Enterprise Management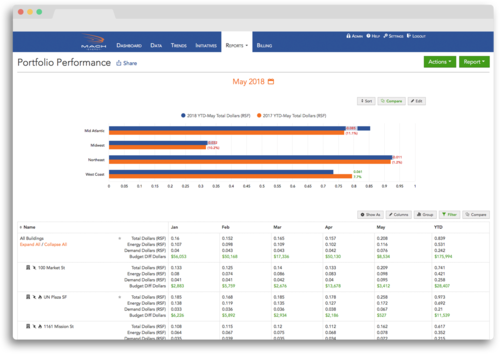 MANAGE YOUR PORTFOLIO WITH EASE
Let us help solve your energy and sustainability reporting. MACH maintains a library consisting of nearly one hundred different energy and sustainability metrics to meet a range of needs. Start with our default reports and then customize to your needs. Choose to group or filter your assets by a series of available attributes, or define your own attributes and create groups or segments specific to your buildings and operations. Subscribe to automated emails and receive important reports delivered right to your inbox.


View performance by portfolio, group, campus, buildings, and account.
Customizable reports to fit a variety of needs.
User defined groups and filtering.
Square footage-based normalization.
Flexible charts
Automatically receive your favorite reports through email subscriptions.
Excel-based downloads for data portability and use.
A growing library of nearly one hundred energy and sustainability metrics.
Supporsts multiple energy types for consolidated reporting.


Initiatives®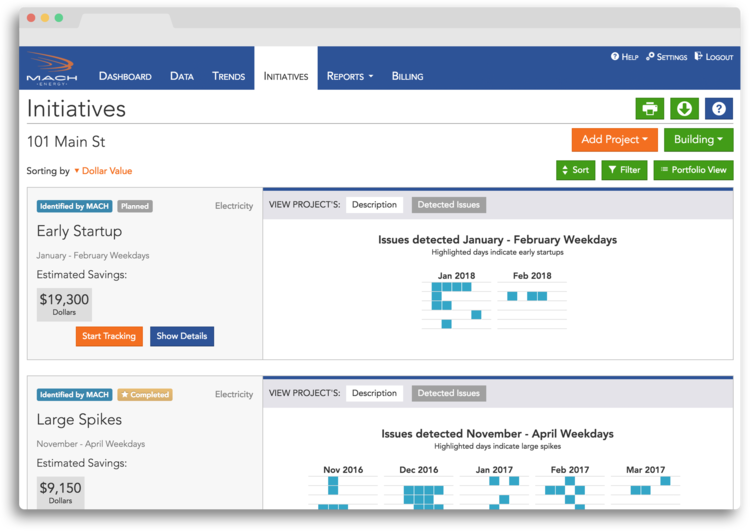 INITIATIVES®: YOUR ENERGY SAVINGS MANAGEMENT PROGRAM.
Determining what energy savings opportunities are available to your buildings and prioritizing your efforts can be a challenge. MACH's Initiatives automatically identifies potential savings opportunities by analyzing load profiles and comparing them to similarly sized buildings in the same geographic location. When an opportunity is detected, we present the dollars, energy consumption, and ENERGY STAR score impact, allowing you to prioritize the issues that matter most.

Initiatives can also capture the savings of capital and other operational projects your team has identified and implemented through our measurement & verification and "What-If" features.

FEATURES
Automatically identifies savings opportunities, many of which require no capital costs to resolve.
Present savings opportunities in terms easily understood across the industry: dollars, energy, and Energy Star point reductions.
Portfolio view to analyze projects across buildings.
Compare against similarly sized buildings in the same region to provide focused comparative analysis of operations.
Customize your Initiatives to address any leased required operations.
Emailed reports to track Initiatives at the project, building, and portfolio levels.


Measurement & Verification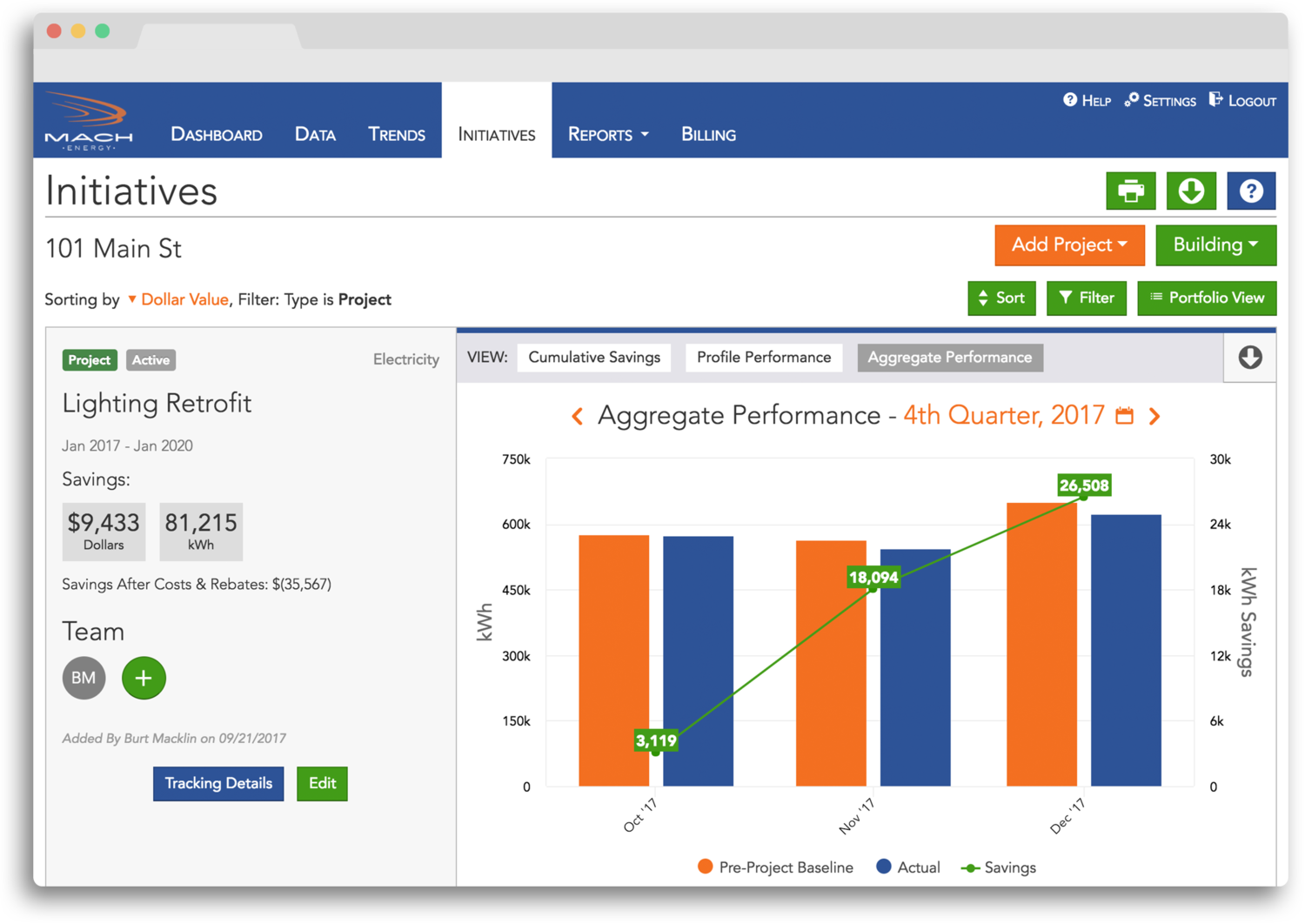 EVALUATE AND TRACK ENERGY SAVINGS PROJECTS
Initiatives, MACH's automatically identified energy savings projects, can track the achieved savings of any energy project you're evaluating or have already implemented in your building(s). These may include capital projects like lighting upgrades and chiller replacements, or even operational changes such as a reduction in weekend base-load or a modification of set points.

Analyzing a new project's potential can be difficult and time consuming, and is typically done by the vendor looking to commission the project. Empower your team by using MACH's "What-If" feature to reveal the potential cost and energy savings of any building project through actual load adjustments, relevant tariff calculations, and by tracking changes against MACH's weather and seasonally adjusted pre-project baselines or your own custom variables.

Our solution is built upon trusted standards from IPMVP, ASHRAE Guideline 14, and the Department of Energy's Measurement and Verification Guidelines, and is flexible to work with a variety of different project types and M&V requirements.

FEATURES
Track a project's savings over the course of the equipment's life.
Utilize MACH's weather and seasonally adjusted baseline, or provide your own custom baseline.
Project justification with the calculation of annualized savings, payback period and return on investment (ROI).
Portfolio view to analyze projects across buildings.
Adjust savings for capital costs and rebate incentive programs.
Automatic email reporting at user configurable frequencies (weekly, monthly, quarterly) to support a range of different stockholders.
Detailed PDF reports with analysis and visualizations approachable for all stakeholders regardless of energy experience.


Threshold Alerting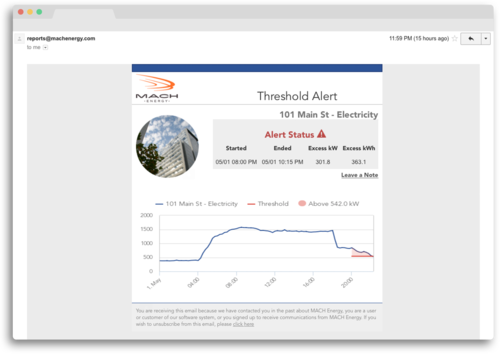 CATCH ISSUES BEFORE THEY BECOME BIG PROBLEMS.
With Threshold Alerting in place, operating teams get notified of irregular usage as soon as a problem arises, allowing for quick responses to potentially disastrous situations. Detect and be alerted on: critical peaks, water leaks, weekend start-ups, or power outages. With the inclusion of different energy sources and sub-meters, the options are endless.

FEATURES
Email and text message notifications which display the usage profile and the alert condition.
Support for real-time data.
Works for all energy sources, plus domestic water.
User configurable above and below threshold amounts.
Select pre-defined time periods like 'weekends,' or your tariff's 'on-peak' period. Or, define your own time frame.
Post alert notifications to determine the energy/water gained or lost.
Historic log for audit support.


UTILITY-GRADE TARIFF ENGINE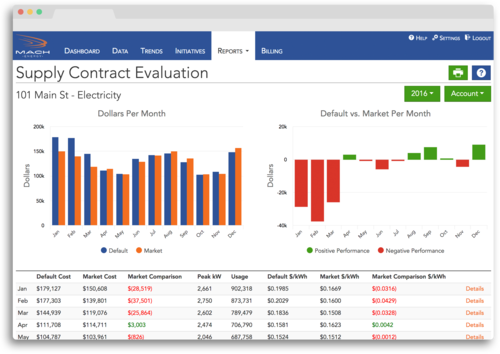 SIMPLE TRANSPARENCY INTO YOUR ENERGY SAVINGS ACROSS METERS, BUILDINGS, AND PORTFOLIOS
Energy metrics and measures can be difficult for stakeholders to comprehend. For over a decade, MACH's utility-grade dollar calculations provides everyone with simple transparency into energy saving actions across meters, buildings, and portfolios.


WHAT IS A UTILITY GRADE TARIFF ENGINE?
Energy dollar calculations are typically estimated and presented as simple dollars per energy unit. MACH has never used this type of calculation as we believe it to be misleading and often grossly inaccurate. Instead, we provide dollar calculations based on full details published in utilities' tariffs, or as described by a procurement company's contract. We support a variety of structures and contract types, including time of use pricing; demand look backs; tier rate ratchet; cross period references; city/state taxes; fixed, blended, and market contracts; and many more.



WHAT WE PROVIDE
Full tariff calculation support, including 3rd party contracts
Detailed demand determination
State and city tax calculations
Demand, energy, fixed, and tax charge breakdown
WHAT WE DELIVER
Supply contract evaluation to determine effectiveness vs risk
Detailed transparency into calculations
Strategies to effectively run operations for maximum return



Contact Us Today To Get Started

329 Jefferson St,
Oakland,
California,
94607

P.o. Box 2641,
Oakland,
California,
94614

1212 Broadway,
Suite 1600,
Oakland,
California,
94612