Vitter's Catering
Vitter's Catering
---
Business details
Vitter's Catering
4816 S. 68Th East Ave.
Tulsa
OK
74145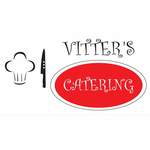 Contact us today!
About Vitter's Catering
Vitter's Catering provides a full-service catering. Our trained team will help you in planning and executing your special event.
Vitter's Catering provides a full-service catering. You and your guests will encounter exquisite food of uncompromised quality, artfully presented by our staffs. Your guests will be charmed by the ambiance -- tables perfectly set and cuisine seductively displayed.
We can supply a style that suits your personality. Chef Joshua Vitt will work closely with you to design an event just for you and help develop themes and other creative ideas that will make your event stand out.
Whether your needs are for a wedding reception, birthday party, wedding anniversary, high school reunion, bridal shower, baby shower, rehearsal dinner, or company party, we will make it most memorable. Our trained culinary team will assist you in planning and executing your special event. From intimate to grand, lavish to informal, we can create the perfect menu, d*cor, and ambiance that your guests will be sure to remember.

Chef Josh received his culinary degree from, one of the Top Ten Culinary Institutes in the nation, Florida Culinary Institute located in West Palm Beach, Florida. Twenty years of education, training, and experience has made him an innovative and accomplished chef.
While Chef Josh attended school in Florida, he trained with a Sushi Master for three years and was employed at a Japanese restaurant. Currently, Chef Josh focuses on Asian Fusion Cuisine, which will be one of the options for you to choose. He is confident it will take your event to the next level. Also, Chef Josh has an extensive knowledge in a Global cuisine, such as authentic Mexican, German, Mediterranean, and Italian, etc.
As former executive chef of Wellness Center in Florida, he trained in nutritional foods (i.e. macrobiotic), which he used to create daily menus for the patients. Today, he continues to use only fresh ingredients to cook for his clients. Chef Josh takes into account each individual*s dietary needs, such as diabetes, low sodium diet, and vegetarian. He will work closely with you and create the best menu to fit your needs.

Service

*Full service catering at venues of your choice.
*Consulting and advice for food cost and budget
*Design and create menus to match your theme
*Develop themes and designs for a buffet table and or food corner
* Set up, plan, and direct food traffic around buffet line.
* Advises on hiring professional staff for your event; Bartender, Server, Rental, Floris, and more .

Menu and Packages

Vitter's Catering doesn't have a set menu because Chef Josh believes that every party is special and unique as individual as you are. We would love to meet you in person to get to know your style and party theme, so we can create a unique menu just for your party. To set up a non-obligation meeting.
Categories: catering, beverage & food delivery
Additional Contact Information
Mobile Phone: 918-978-9044

Facebook
Link to this page
If you would like to make a link to this page from your own website, simply copy and paste the code below into any page of your site.