Banquet Halls : Raleigh
Banquet Halls
Banquet Halls in Raleigh, North Carolina
8111 Creedmoor Rd,
Raleigh,
NC,
27613
Bios
Andrew Pettifer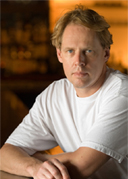 Born and raised in South London, Pettifer received his culinary training in the four corners of the world. After receiving his standard trade certification, Pettifer worked in the kitchen of Blake's Hotel in London. Wanting to widen his standard knowledge of international cuisine, he went on to travel the globe with stops in Bali, Brazil and Australia. Finally settling in Australia, he worked in various Sydney restaurants and catering companies, including Butlers, Taylor Square and City Hotel.

In 1996, Pettifer moved to North Carolina and joined Margaux's staff as Chef de Cuisine. Influenced by his international training, Pettifer transformed Margaux's menu from strictly French to a delightful fusion of French, Southern and Asian cuisines. He continues to improve on the menu by capitalizing on his deep belief in the use of simple, fresh ingredients. While he prides himself in being able to change the restaurant's menu to fit the times, he has been able to strike a perfect balance between what's new in the business and what customers have enjoyed for years.

Customers are able to greet Pettifer and his staff of six chefs over the counter of Margaux's open kitchen to discuss politics or simply request a dish for that evening. Andrew resides in Raleigh with his gorgeous wife Olivia & his adorable son Alexander.

Steve Horowitz
A founding Co-Owner of Margaux's, Horowitz serves as the Restaurant's General Manager. Regulars to the Restaurant are familiar with his inviting personality and quiet attention to detail. Horowitz draws on his family's deep roots in the food-service business to create a comfortable, stylish atmosphere for Margaux's customers and a tight-knit, personal environment for employees.

At the early age of eight, Horowitz began helping out dishwashing at Hickory Pits, his father's New York City Coffee Shops. His very first to go delivery was to the Red Velvet Room of Plato's Retreat, got tipped $50 for delivering a coffee and buttered corn bread muffin to the most beautiful girl he'd ever seen, been hooked on the business ever since. While growing up in Long Island, he continued his training by checking coats, bussing tables, cooking & waiting on customers in his father's Oceanside Restaurant – The Cricquet Inn.

After graduating from Binghamton University with a degree in marketing and advertising, he went to work for Warren Kremer, a New York advertising firm. Unable to deny his passion for the food-service industry, and his dislike for ties & the bureaucracy of the corporate world, he left the agency to help open the family's newest endeavor – Le Dock in Fire Island, N.Y. There the family served cuisine to the famous, including Liz Claiborne, Mel Brooks, Leah Thompson, Steve Perry, Mike Wallace, Anne Bancroft and of course the Infamous Seijas & Suarez Flying Trapeze Tandem.

In an effort to find a quieter area to raise their children, Horowitz and his brother-in-law Richard Hege moved their families to Raleigh to open Margaux's in May of 1992. He credits his intense work ethic and philosophies to his Two Zen Master's: Father Jerry Horowitz & The Tasmanian Brother In Law Hege. In his down time when not fulfilling his dreams, he can be found rollerblading, playing ice hockey & writing Japanese Haikus'. Steven is an extremely family oriented person, who credits his parents for everything positive in his life. Father to twin boys & an adorable princess.


Call Today!