Identibrands Powered by Proforma
Identibrands Powered by Proforma
---
Business details
Identibrands Powered by Proforma
10439 N. Cave Creek Rd
#101
Phoenix
AZ
85020


3 Benefits of Having Employee Uniforms
About Identibrands Powered by Proforma
Your company's brand is essential to building a strong customer base and a unique presence in your market. When deciding on promotional products for your next campaign, save money by choosing IdentiBrands Powered by Proforma® in Phoenix, AZ. Backed by over 35 years of experience, this trusted advertising company offers you all of the advantages of your own personal agency but without the costly fees.



Driven by a commitment to providing you with fresh ideas, inspiration, and strategies, these skilled advertising specialists will design unique campaigns for your business. Clients can benefit from a variety of solutions, including recognition, direct mail, and awareness campaigns, designed to achieve specific goals. From start to finish, they offer the expertise to identify the best approach for your objectives.



With a rich history that dates back more than four decades, this advertising company is known for their ability to create effective promotional products at affordable prices. Whether you're in the automotive or healthcare field, these professionals will take your thoughts and put them into action in the form of franchise branding. You can take advantage of their printing services, custom apparel designs, and point of sales solutions.



Do you need assistance from a reliable advertising company? In today's world, a variety of marketing challenges present themselves to businesses and organizations looking to grow their reach. Combat the branding obstacles in your way with direction from the experts at IdentiBrands Powered by Proforma, your home for custom solutions at budget-friendly prices. Call them today at (602) 888-0708 to schedule an appointment or visit them online for more information.
Categories: advertising services, promotional advertising, commercial printing, marketing services Keywords: Advertising Company, custom apparel, promotional products, promotional items, Marketing Solutions, web design, advertising agency, Packaging Services, Advertising Specialties, shipping services

Facebook
Images from Identibrands Powered by Proforma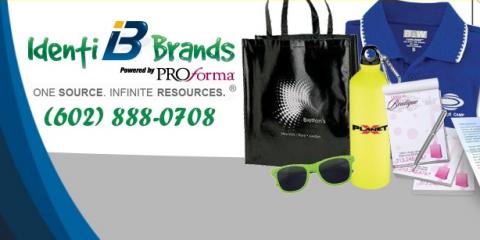 Link to this page
If you would like to make a link to this page from your own website, simply copy and paste the code below into any page of your site.