George A. Spencer, CPA. P.A
George A. Spencer, CPA. P.A
---
Business details
George A. Spencer, CPA. P.A
3450 Dunn Avenue
Suite 305
Jacksonville
FL
32218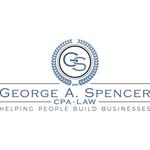 Book A Free Consultation
About George A. Spencer, CPA. P.A
George holds a bachelor's degree in accounting, a master's degree in accounting and a Juris Doctorate law degree. George is licensed as a certified public accountant (CPA) in the State of Florida and admitted to the Florida Bar. George has also obtained an Accredited Business Valuation (ABV) and Certified Valuation Analyst (CVA) designations. He serves as the Managing Director and Founder of the firm, George A. Spencer, CPA, P.A., a certified public accounting and consulting firm, located in Jacksonville, Florida. George entered the public accounting profession in 1995. Since that time, he has provided individuals, businesses and industries with professional services from accounting, auditing, tax, CFO outsourced services to business consultations. He has mainly served the needs of small businesses, not-for-profits and entrepreneurs. He was the manager of a large local CPA firm and a University accounting professor before founding George A. Spencer, CPA, P.A.

History
Located in Jacksonville, Florida, George A. Spencer, CPA, P.A was created on the premise that small businesses and individuals need expert financial services and advice in a personable manner at a reasonable cost. George A. Spencer, CPA, P.A. serves as a provider of personalized consulting, auditing, litigation support, business valuation, management consulting and tax services.

Our Goals
Our experience provides us with the foundation to serve the needs of small business and entrepreneurs. However, we are committed to obtaining a deeper understanding of the specific goals and objectives of every client we serve. We are business advisors that bring valuable assets to the table, spanning a broad range of business and personal accounting experience. With this experience, we can customize our services to help you achieve your unique goals and objectives.
Categories: accounting & bookkeeping
Services
Tax Preparation in Jacksonville


Choose top-tier tax services. Choose George A. Spencer.
As a business owner, you understand the importance of having your taxes filed correctly. Not only does it affect you, but also your employees. It is vital that you choose the right accounting professional to handle all of your tax planning and preparation. Let us make sure that you are ready to file simply and easily; we would be happy to help. With more than 20 years of experience and a true passion for helping make the lives of business owners easier, you can count on George A. Spencer to give you the simple yet thorough tax services you deserve.

As your dedicated business tax expert, we will:

Gather and organize all necessary forms, including W-2s, SSA-1099s, and more
Get all of your applicable receipts together for deductions purposes
Gather and organize information regarding charitable donations
Inform you of recent tax law changes and act accordingly when filing
Request filing extensions on your business' behalf, if necessary
Consult with you about how you want to claim your tax refund, if you expect one
Do not hesitate to reach out today to find out more about the services we provide or to setup an appointment. We look forward to hearing from you and taking some of the stress of tax preparation off of your back.

Planning and preparing for the future is the most important part of ensuring that your finances are in order for years to come. However, actually doing that planning is much easier said than done. As a tax planning professional with more than two decades of experience, George Spencer is here to assist you with all of your tax planning needs. Planning ahead for this year and beyond, he is here to give you the best of the best in tax preparation services.



As your partners in tax planning, we will do the following and more:

Assist you in the process of paying off deductible expenses
Strategize with you and implement a strategy of "bunching"
Help you figure out what the stocks and IRAs you are invested in mean for you
Discuss rollover of company stock and whether it is wise for you
Analyze your business' current financial situation and figure out what it means for your future
Help you reduce your tax liability and maximize the possibility of the funds being allocated elsewhere
Call today to find out more about the services we provide or to set up an appointment to plan toward, and ultimately improve, your financial future. We look forward to speaking with you.

Url: https://www.spencer-cpa.com/tax-preparation/

IRS Resolution in Jacksonville


Spend Time on Your Business
Leave Your Taxes up to us!


IRS Resolution in Jacksonville
It is no secret to any modern business owner that tax trouble can be scary, and understandably so. If you don't take it seriously, it can lead to major consequences. Whether you improperly filed, missed the filing date, or are being audited, it is vital that you enlist the help of someone who really and truly knows what they're doing. When you choose to work with us as your IRS resolution experts, you can rest assured that you are in great hands.

With more than 20 years of combined experience as a CPA and tax attorney in Jacksonville, George A. Spencer will be there for you every step of the way through your IRS resolution process. Striving for the utmost integrity and professionalism, he will work hard to get your IRS situation resolved as quickly as possible, so that you can get back to handling the other aspects of your business. Consider us your partner in your process with the IRS. Above all, we are here to help you get through your difficult and stressful current tax financial situation.

Do not hesitate to reach out today to inquire about the IRS resolution services we offer. We would be more than happy to speak with you and set up an appointment at your earliest convenience.

Url: https://www.spencer-cpa.com/irs-problem-resolution/

Incorporation Services in Jacksonville


Spend Time on Your Business
Leave Your Taxes up to us!


Incorporation Services in Jacksonville
Nurturing and growing your small business is an exciting process, but at a certain point, it comes time to incorporate. By incorporating your business, you become the beneficiary of a wide range of perks. As a lawyer and CPA with decades of experience, George Spencer is here to be your guide through the incorporation process. Our team would be more than happy to assist you with this vital step toward growing and furthering your business.

Benefits of incorporating your business include, but are not limited to:

The ability to protect assets you have invested in your business from creditors
A wide variety of tax benefits and opportunities to save money
Substantial ease when it comes to selling your business or raising capital
A better business reputation and a great deal of credibility
The ability for your successor to continue growing your business long after you're gone
More thorough records, helping in both accounting and legal matters
A higher level of privacy than you would otherwise have regarding your personal identity


Call today and ask for George Spencer to find out more about our incorporation services and why you should incorporate your business. We look forward to hearing from you soon.

Url: https://www.spencer-cpa.com/incorporation-services/

QuickBooks Services in Jacksonville


QuickBooks has long been the gold standard in business accounting software, which is why so many thousands of small, medium, and large businesses use it. George Spencer is a true QuickBooks expert with nearly a quarter of a century of experience in small business accounting and tax preparation services. Let us help your business get its accounting and recordkeeping in order by being your guide to and partner in the use of QuickBooks. We would be more than happy to ensure that your business' accounting process works like a well-oiled machine.



As your friends in QuickBooks, we will:

Install, then setup the software to fit your unique business' needs
Train you and your team on QuickBooks operation and utilization
Prepare your QuickBooks system at tax time or whenever you are undergoing a financial review
Be available to you whenever you need us, to answer any and all QuickBooks related questions
Adjust your QuickBooks program to meet your unique needs whenever necessary
Build a custom report, utilizing your QuickBooks program and the information you put in
Contact us today and ask to speak to George A. Spencer about our QuickBooks services. We are here to help you with any and all of your accounting needs.

Url: https://www.spencer-cpa.com/quickbooks-services/

Small Business Accounting in Jacksonville


Small Business Accounting

Having your finances in order is a huge part of running your business, and finding the right people to do it for you can be hard. We are here to help. By choosing George A. Spencer as your CPA, you get unparalleled peace of mind regarding your business' finances. With two decades of bookkeeping and accounting experience and an earnest dedication to our clients, we are the clear choice for small business accounting in Jacksonville.



So, why should you choose us as your business' partner in accounting?

It is substantially less expensive than hiring someone onto your in-house team
Your employees save valuable time that would otherwise be dedicated to accounting
We already have cutting edge accounting technology in place, so you don't have to supply it
The risk of any sort of fraud or theft is drastically lower with a reputable accounting firm like us
Our services are scaleable and can be rearranged to fit your needs
We give you full access to all of your financial data at all times
You get the confidence that only comes from working with the best
Get in touch with us at your earliest convenience to find out what George Spencer can do for your business. We look forward to hearing from you soon.

Url: https://www.spencer-cpa.com/small-business-accounting/


Facebook
Opening Hours
Monday: 07:00 to 22:00
Tuesday: 07:00 to 22:00
Wednesday: 07:00 to 22:00
Thursday: 07:00 to 22:00
Friday: 07:00 to 22:00
Saturday: 07:00 to 22:00
Sunday: 07:00 to 22:00

Link to this page
If you would like to make a link to this page from your own website, simply copy and paste the code below into any page of your site.